Lyons provides mechanical fabrication services for industrial and commercial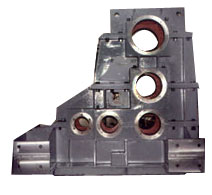 customers ranging from the steel industry to large manufacturing OEMs. We have both the facilities and the experienced staff to take your mechanical fabrication needs from print to reality.
Our mechanical fabrications include:
Gear Boxes
Motor and Speed Reducer Bases
Drums and Hook Blocks
Handrails, Steps, and Panels
We fabricate metal for mechanical applications and parts, all custom fabricated to your specifications and requirements.