LEMCO is the industrial electric motor repair division of Lyons Industries. LEMCO specializes in the repair and refurbishing of rotating electric equipment for the railroad industry, heavy industry, mining, and power generation companies.
We offer DC motor repair for mill and traction motors used in industrial applications and railroads. We also repair DC generators and exciters.
We repair AC motors and generators used in industrial applications, as well as AC fan and blower motors used on railroad equipment.
We repair explosion-proof motors used in the mining industry or any other hazardous environments.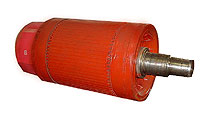 Our staff of electric motor repair specialists each have 10 to 30 year's experience. We pride ourselves on customer service and communication with our clients throughout the project. We guarantee our work!
Where possible, we offer exchange services for standard railroad traction motors, blowers, fans, and generators. We offer pick-up and delivery via our own trucks, or can make trucking arrangements for you.